Slovenia: Trapped in the spirit of the past after 30 years of independence?
---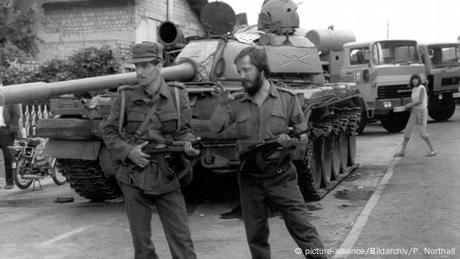 "Dreams are allowed today, tomorrow is a new day" are words etched into the historical memory of Slovenians, also known as Slovenes. On 25 June 1991, they were uttered by Milan Kucan, then president of the Yugoslav Socialistic Republic of Slovenia and subsequently twice president of independent Slovenia. On that day, Slovenia declared its independence and officially separated from Yugoslavia.
"You could sense his uncertainty from that last sentence," says Dusan Plut, then a member of Slovenia's presidency and president of the Greens of Slovenia. He had high expectations but as a politician he was also concerned about how independence would pan out.
Following a referendum held on December 23, 1990, in which 95% voted in favor of Slovenian independence, the country's politicians unanimously decided to implement the outcome as soon as possible — "non-violently," as Plut emphasizes.
Plut's disappointment with the stance of European policy and key European countries at the time, including Germany, is still tangible: "Back then, we did not get any support. In an attempt to prevent conflict, the emphasis at a European and international level was on preserving both border integrity and even the socialist sociopolitical system of Yugoslavia. Yet war occurred nevertheless."
Mixed feelings
Following Slovenia's proclamation of independence, the Yugoslav army moved to intervene. Sociologist and philosopher Renata Salecl recalls that there was widespread fear of military escalation. However, the war in Slovenia only lasted 10 days.
The last Yugoslav soldiers left Slovenia on October 25, 1991 by ship from Koper. The fighting claimed 76 casualties: 19 on the Slovenian side, 45 on the Yugoslav side and 12 foreign nationals, among them the Austrian journalists Nikolas Vogel and Norbert Werner.
"The decision for an independent and sovereign Slovenia was appropriate and correct. We used 'the last chance' to achieve an independent Slovenia," explains Plut, while admitting that "the very achievements of independence evoke mixed feelings."
Naturally there has been an increase in material well-being since Salecl adds that, back then, there was a great deal of faith in democracy and human rights. "But there was too little discussion about what kind of society we envisioned for the future."
Increased social disparity
"Social and regional disparities have increased. Decisions are still taken centrally. The shameful legacy of independence is that some 15% of the population lives below the social security threshold. This is totally at odds with the political aims and promises of the early '90s. Independence was not meant to mean that a relatively high proportion of Slovenes lives in poor circumstances," says Plut.
"We began well, but of course we made mistakes," says Natasa Briski, a journalist at web portal Metina lista and a former US correspondent. She points out that on February 26, 1992 Slovenia's Interior Ministry illegally erased 25,671 people with Yugoslav citizenship from the register of permanent residents.
Bold, ambitious and connected
Briski, who was 16 years old at the time of independence, experienced a Slovenia that was bold, ambitious and connected. However, after achieving membership in relevant international organizations such as the the Organization for Economic Cooperation and Development, the European Union and NATO, the fledgling state began to drift.
"Part of the problem is that the reins of power in Slovenia are still held by people who played an important role 30 years ago, but today they are mostly just bitter, old and lack vision. Over the last 10 years our political game has really deteriorated," she says.
Unable to meet expectations
A Vox populi opinion poll, prepared for newspapers Dnevnik and Vecer by the Ninamedia agency (n = 700) revealed that 61.8% of respondents felt Slovenia had not lived up to the expectations of citizens over the last 30 years.
Asked whether respondents today live better, worse, or the same as 30 years ago, 33% of respondents answered that they live better, 27% of respondents live the same, and 28% of respondents replied that they were worse off than before independence.
Yet, in terms of natural and human potential, Slovenia ranks among the 20 to 30 most privileged countries in the world, argues Dusan Plut. One of the key challenges of the future for Slovenia is ensuring social security. "The current mechanisms will not work. Slovenia needs to thoroughly consider new social security mechanisms, such as the idea of a universal basic income."
Digital illiteracy a problem
A lecturer in electrical engineering at the University of Slovenia in Ljubljana, Emilija Stojmenova Duh estimates that Slovenia scores below the European average in the field of digital transformation.
"The key problem is a misunderstanding of digitalization and its very patchy implementation. The biggest challenge we have, in addition to the connectivity that should be available to everyone, is providing the skills and digital knowledge essential for digital transformation. Too many Slovenes are digitally illiterate and therefore unable to use either the Internet or digital public services," she says.
Emilija Stojmenova Duh moved to Slovenia from Macedonia in 2002. "Politically and socially, Slovenia is currently at rock bottom. Intolerance is rife, although fortunately this tends to be more evident in politics and less so in society at large. That said, I fear intolerance in politics could lead to hatred and unrest among the population," she says.
March 2021 saw the Culture Ministry adopt a decision to establish a museum of Slovenian independence. "More and more monuments are being set up in a move to mythologize Slovenia's independence — increasingly, the emphasis is on glorifying those aspects of the process directly associated with today's principal party of government," says Plut.
What chance democracy and human rights?
Renata Salecl still remembers attending protests in 1988 in support of today's Prime Minister Janez Jansa, who, along with three other colleagues, was arrested by the state security service and the Yugoslav People's Army's counterintelligence service for allegedly divulging military secrets. The "trial of the Ljubljana Four" was what triggered the mass protests that led to Slovenes discovering the meaning of civil society.
"Now the pendulum seems to be swinging back in an authoritarian direction again," says Salecl. "We fought for the rights of the man who is prime minister today. Today, however, Jansa is riding roughshod over concepts such as human rights, democracy, freedom of assembly and the like. The ruling politicians in Slovenia are increasingly turning away from democracy and human rights — values I had always associated with independence."
Natasa Briski claims Slovenia is at an important turning point today. "Our future will depend on how events unfold over the next few years. We will have to decide what we want — a fresh, innovative, daring and socially just Slovenia, or a country trapped in the spirit of the past for the next 30 years."
EU condemns Ethiopia's deadly Tigray airstrike
---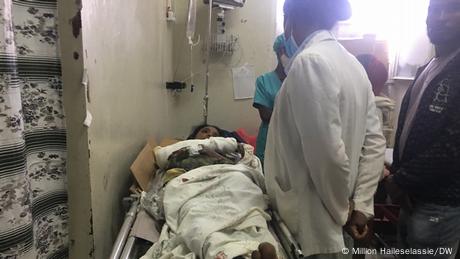 Eyewitnesses are adding more details to what started as a rumor about one or more explosions with dozens of civilian casualties in the village of Togoga in Ethiopia's restive Tigray region.
According to health workers, who spoke to international media outlets mostly on the condition of anonymity, an airstrike hit the village market on Tuesday afternoon, killing at least 50 people and wounding dozens more.
The attack is one of the worst since the conflict between the Ethiopian government and the dissident Tigray People's Liberation Front (TPLF) started more than eight months ago. It comes amid reports of increased fighting in the region and warnings of a worsening humanitarian crisis.
ICRC calls for protection of aid workers
The International Committee of the Red Cross (ICRC) in Addis Ababa confirmed the incident, although the organization did not comment on the nature of the attack.
Spokesperson Alyona Synenko told DW that ICRC teams in Tigray helped facilitate the evacuation of wounded people from Togoga village to Mekele, the regional capital located some 30 kilometers away from the scene of the attack.
"For us, it is very important to stress that medical facilities and personnel must be respected and protected at all times," said Synenko.
However, the ICRC could not confirm accounts by local doctors and paramedics widely cited in news media that Ethiopian security forces had blocked ambulances on their way to and from Togoga.
Children among injured
According to DW's Tigray correspondent Million Haileselassie, 33 victims from the attack were brought in from Togoga to be treated at Ayder Hospital in Mekele. Among them were two children aged two and ten.
"Victims of the airstrike told me that there were no military targets in the marketplace, only civilians," Million said via phone.
As credible reports of the attack at Togoga have surfaced from the largely cut-off region, international condemnation has been swift.
In a joint statement, European Union High Representative Josep Borrell and Commissioner for Crisis Management Janez Lenarčič called the bombing of a marketplace "extremely worrying." They called for an immediate ceasefire and unrestricted humanitarian access to the region.
EU leaders have also put the situation in Tigray on the agenda of their current summit meeting in Brussels. Commission spokesperson Balazs Ujvari told DW: "What we expect now is an independent and thorough investigation into what happened."
Similar calls have been brought forward by the United States, United Nations, and human rights organizations.
Setback for premier Abiy
Ethiopian military spokesman Colonel Getnet Adane confirmed to DW that the Ethiopian National Defense Forces (ENDF) carried out an airstrike on Togoga on Tuesday afternoon. However, he denied that civilians were harmed in the attack, calling it a "precision strike" against enemy combatants.
The bombing carried out as votes in the country's contentious general election are being counted is seen as yet another setback to Prime Minister Abiy Ahmed's efforts to garner domestic and international legitimacy and bring peace and unity to the country.
Abiy, who was awarded the Nobel Peace Prize in 2019, is projected by observers to win Ethiopia's first multi-party election since 2005. Although the election has generally been considered more democratic than previous ones, with African Union observers calling it "orderly, credible, and peaceful," ongoing fighting in Tigray and other parts of the country has meant that polls could not take place at all in those regions.
According to the election board, final results are expected to be published in early July. However, it is unlikely that a new government will be formed until all Ethiopian regions have voted. In Tigray, that possibility seems more uncertain than ever.
Seyoum Hailu, Million Haileselassie, and Gebeyaw Nigussie contributed to this article.
UEFA scraps away-goals rule for club competitions
---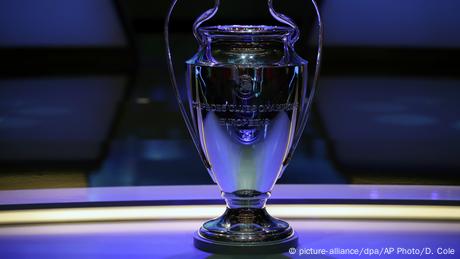 European football's governing body UEFA has decided to do away with the away-goals rule for its club competitions. The change is to take effect starting with qualifying stages for tournaments in the 2021-22 season.
Biden-Ghani meeting: Afghan president makes last-ditch effort to stop Taliban gains
---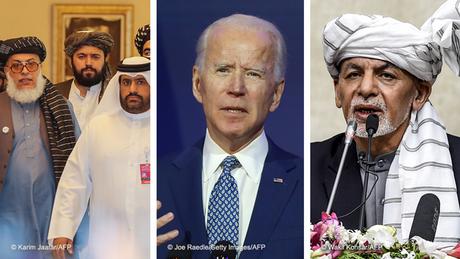 US President Joe Biden will host his Afghan counterpart, Ashraf Ghani, and other high-ranking Afghan officials, at the White House on Friday.
The meeting is taking place at a crucial time for Afghanistan. NATO forces have already started pulling out from Afghanistan after their two-decade presence in the war-ravaged country. The withdrawal of all foreign troops is expected to be completed by September 11.
The big question is: What will happen to Afghanistan after the US exit?
Taliban gaining strength
The Taliban, emboldened by the 2019 deal with the US and the unconditional exit of foreign troops from Afghanistan, are gaining control of more territories in the country.
UN Special Envoy on Afghanistan Deborah Lyons said Tuesday that the Taliban have captured more than 50 of 370 districts in the country since May.
"Those districts that have been taken surround provincial capitals, suggesting that the Taliban are positioning themselves to try and take these capitals once foreign forces are fully withdrawn," Lyons told the UN Security Council.
With an obvious upper hand in the battlefield, the Islamist group could try to take over the capital Kabul from the Afghan government by the end of the year. But experts say that the militant group is being tactful about advancing towards provincial capitals.
"The Taliban are capable of capturing Kabul, but they don't want to take over major cities like Kabul or Mazar-e Sharif from Afghan forces, yet. Taliban fighters are strengthening their presence in districts around big cities to put pressure on the government," Ahmadi Saidi, a former Afghan diplomat to Pakistan, told DW.
Assadullah Nadim, a Kabul-based security analyst, agrees with this assessment. "The Taliban have seized a lot of military equipment in recent months because of their rapid advances. They can capture provincial capitals, but I think they do not want make that move right now," he said.
Washington is hoping that the militant group will engage in intra-Afghan talks and work with the government to consolidate the peace process. Afghan President Ashraf Ghani's government has repeatedly urged the Taliban to declare a countrywide cease-fire. However, attacks across Afghanistan have increased instead.
"The US-Taliban agreement in Doha last year and the unconditional withdrawal of NATO troops from Afghanistan this year have boosted the Taliban's morale," Attiqullah Amarkhail, a Kabul-based security expert, told DW.
"Taliban leaders know they can defeat the government in Kabul. Therefore, we have seen a surge in their attacks on Afghan districts," he added.
Ghani in a tough spot
The government in Kabul faces a tough challenge. It needs continued financial support from the US after the withdrawal of NATO troops from the country. President Ghani is likely to seek assurance from Biden that the US will not allow his government to collapse.
"President Biden won't be able to offer a lot to Ghani, I believe, although there will be public announcements about Washington's support to Afghanistan. The reality is that Biden believes Ghani and other Afghan leaders have wasted many opportunities for peace in the country," Saidi underlined.
Analyst Nadim believes President Ghani is "in a weak position at this point."
"Ghani desperately needs the military backing, which is dwindling with the withdrawal of US troops from Afghanistan," he said.
The collapse of the incumbent Afghan government could push the country to a civil war, and the Taliban would be the main beneficiaries of this scenario.
The Taliban have already dismissed Ghani's US visit, which will include the chairman of Afghanistan's High Council for National Reconciliation, Abdullah Abdullah, as "useless."
"They will talk with the US officials for preservation of their power and personal interest," Taliban spokesman Zabihullah Mujahid said.
"It won't benefit Afghanistan," he added.
But if the US refuses to help the Afghan government, it would certainly benefit the Taliban, experts say.
"I don't see the Biden-Ghani meeting as a negotiation. I think it will be more of a conversation — albeit likely a tense one — and an effort to provide reassurances about continued partnership and support," Michael Kugelman, deputy director and senior associate for South Asia at the Washington-based Wilson Center, told DW.
What can Biden do for Ghani?
Theoretically, the US can still do a lot for the Afghan government. It can provide assistance to Afghan forces and use military bases in neighboring countries to provide air support to the Afghan military.
But Kugelman says the Biden administration cannot offer much. "The most potent form of assistance — US firepower — is about to be taken off the table. The best the US can do is provide assurances to Ghani that US military support, in the form of financial assistance, will continue to flow into Afghanistan."
"The US will be careful not to do anything militarily that would violate its agreement with the Taliban. The last thing the US wants is for the Taliban to accuse the US of violating that agreement, and then retaliating against US forces in response," he added.
The US can also decide to roll back the troop withdrawal, but it is quite unlikely at this stage – even after clear indications that the Taliban could capture provincial capitals in coming months.
"The US has been clear and consistent in its messaging that it will be out of Afghanistan by September. I do think the pacing of that withdrawal will likely change," Kugelman said.
Security analysts Nadim agrees: "I don't see that happening. US officials say that NATO troops will leave Afghanistan. If they reverse this decision, it will create problems for the US and its allies."
US air bases in Pakistan?
Washington, however, can still force the Taliban to agree to a power-sharing formula with different stakeholders. To achieve this goal, it can use its influence on countries like Pakistan.
But the Pakistan situation is tricky. Reports in the US media say that Washington and Islamabad have been discussing the possibility of US air bases in Pakistan. The Pakistani government, however, has been reluctant to provide these bases to the US due to a possible backlash from Islamist groups in Pakistan.
"I believe Pakistan will give its bases to the US but will deny it publicly due to its internal political issues," former Afghan diplomat to Pakistan Saidi said.
If the Pakistani military pressures Prime Minister Imran Khan to agree to it, there could be a severe rift between the generals and the civilian leadership, he added.
The other option is that Pakistan uses its influence on the Taliban to convince them that power-sharing is the only viable solution for Afghanistan. It is, however, unclear that the Taliban would pay heed to Islamabad's suggestion.
"Pakistan is ready to support the Afghan peace process but it doesn't want to work with President Ghani," Nadim said, adding that the Afghan president doesn't have many allies inside and outside of Afghanistan.
Stranded whale baffles Sierra Leoneans
---
The marine mammal got stranded at Lumley Beach in Sierra Leone's capital. Many people from around Freetown capital came to watch the stranded whale. A tractor helped save the mid-sized Humpback back into the sea.
Tokyo Olympics: A month to go, protesters intent on postponing games
---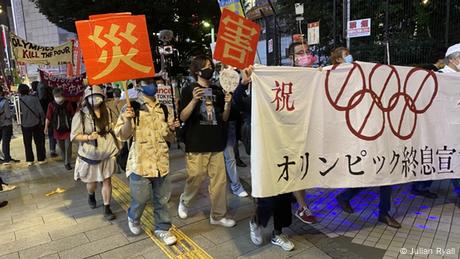 Atsuko Nagayama is so angry that she is physically shaking. Standing with around 250 protesters in front of the headquarters of the Tokyo metropolitan government, she is holding a simple homemade placard with the words: "Cancel the Olympics."
"It is much too dangerous to go ahead with the gamesbecause we know that there are many variants of the coronavirus already in circulation in Tokyo," Nagayama told DW.
"I want the government and the International Olympic Committee to come to their senses and realize the danger that we are in," she added.
Nagayama, who is 60 years old and lives in Saitama Prefecture, just north of Tokyo, traveled to the demonstration in the capital on Wednesday evening.
The Tokyo Olympic and Paralympic Games are set to become the first-ever to take place amid a global pandemic, after being postponed for a year amid earlier infection waves.
The protest was timed to mark exactly one month out from the opening ceremony at the new National Stadium.
Arranged by a coalition of more than a dozen groups opposed to the games, the protesters met outside the towering block in the Shinjuku district of Tokyo before marching to a plaza close to the busy Shinjuku station. Police officers followed them closely.
The protesters represent some of the 60% of Japan's citizens who say they disapprove of the games going ahead, according to the results of a latest poll. This is down from a high of 84% reported in late May.
Coronavirus infections could rise
The Tokyo Organizing Committee of the Olympic and Paralympic Games is adamant that the games will go ahead despite the continued presence of the virus.
On Wednesday, Japanese health authorities reported 1,797 new cases of the virus nationwide, with 619 of these recorded in Tokyo — an increase of 118 from one week previously and above 600 for the first time since May 28. Authorities also reported 58 more deaths from the virus across the country.
A report by a panel of experts set up by the health ministry warned on Wednesday that new cases of the coronavirus have stopped falling and will likely begin rising again.
The experts are particularly concerned about the rapid spread of the Delta variant that is believed to be as much as 90% more contagious than previous variants.
Experts outlined that it could account for nearly 69% of all new infections across the country by July 23, the opening day of the games.
Stringent guidelines for Olympics spectators
In a bid to clamp down on the spread of the virus, the government announced a 10,000-spectator cap during events in the national stadium and further caps at other venues.
On Wednesday, while anti-games protesters took to the streets, the Tokyo Olympics organizing committee released a set of stringent guidelines in a bid to stop the virus from spreading at the event.
Ticketholders will have their temperature checked before entering a venue. They will not be allowed to eat or drink in groups and will not be permitted to buy or bring alcohol into stadiums. Face masks will be mandatory for sports fans in venues.
Additionally, spectators will not be permitted to shout or cheer athletes and must leave the venue immediately after an event.
Anyone who fails to comply with the rules will be refused entry or ejected from venues, the organizers added.
Opposition to the games remains
But the new rules have not quelled the backlash from some in Japan.
Haruo Ozaki, the chairman of the Tokyo Medical Association, said on Tuesday that it was "incomprehensible " that the Japanese government, the International Olympic Committee and the national organizing committee are forging ahead with the games regardless of the dangers posed by a global pandemic.
On June 18, the Tokyo Medical Association joined other medical bodies to submit a joint plea to the government, requesting that the games be canceled or held without any spectators.
At the protest, Nagayama explained that she views Japan's continual commitment to the games as a clear disregard for medical advice: "The government is ignoring what the scientists and the medical experts are telling them," she said.
"If the games go ahead, then bad things are going to happen. The government is only thinking about money, but we believe that the lives of ordinary people are much more important," she told DW.
The Tokyo Olympics, at any price?
Akiyoshi Funaki, a retired teacher from the city of Yokosuka, immediately to the south of Tokyo was also protesting. He voiced another objection to the Tokyo Games: "Stop spending money on the Olympics and spend it on education and children, the future of the nation."
The cost of the games is set to have risen by around $3 billion, following the unprecedented postponement from 2020. But it is also expected to lose out on millions of revenues after ticket sales were slashed, including a ban on sales to international fans.
Using a megaphone aimed at the building, he called on officials of the administration of Governor Yuriko Koike — who was admitted to hospital suffering from exhaustion on Tuesday — to come down and explain her policies on the games to the demonstrators.
"What are you thinking?" he yelled into the megaphone. "Our children should be the priority. It's not too late to cancel the Olympics. Do the right thing."
Apple Daily journalists say 'press freedom is dead' in Hong Kong
---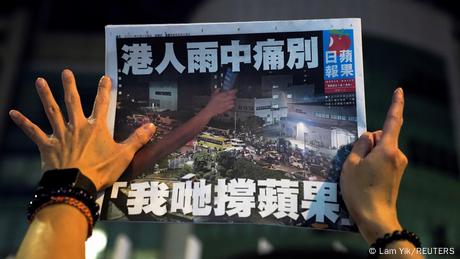 Hours before Hong Kong's largest pro-democracy newspaper, Apple Daily, announced Wednesday it would cease operations once and for all, dozens of its journalists arrived at the printing plant early Thursday morning to observe the last edition roll off the press.
Emily, who joined the paper in 2019, said she had been on the front lines of the 2019 pro-democracy protests that shook Hong Kong for months, and led to a crackdown from Beijing on the semi-autonomous city's civil liberties.
"Seeing everyone wearing a reporter's vest, I felt that we were comrades in arms, living and dying together," she said about covering the protest movement.
Last week, Hong Kong police raided the offices of Apple Daily and arrested editors and executives over alleged breaches of a national security law, which was handed down by Beijing last year to ensure "stability" in the wake of the protest movement.
Since then, the law has been used to crack down on the pro-democracy movement by criminalizing large gatherings and curbing speech criticizing Hong Kong's Beijing-backed legislature.
However, the raid on the newspaper on suspicion of "collusion with a foreign country" is the first time a large media outlet in Hong Kong has been directly targeted under the national security law.
Emily told DW she felt sad and angry that Apple Daily was forced to shut down after the police froze the company's assets under the law.
"It feels like someone is trying to break off a relationship with me and I know that I'm still very much in love with the person," she said.
Emily said many media companies and other industries have blacklisted Apple Daily and journalists who used to work there could have a hard time trying to find new jobs.
Authorities target free speech in Hong Kong
Apple Daily founder Jimmy Lai has been in detention since late last year on various charges under the national security law.
In the months following Lai's arrest, rumors began to circulate that Hong Kong, backed by mainland China's government, planned to ban Apple Daily and other critical media outlets before July 1, the day that the Chinese Communist Party turns 100 years old.
Anson, a journalist at Apple Daily, said he had not been concerned about the rumors at the time. "I always thought it was totally impossible," he said. "We are doing the right thing, so how can they mess with us?"
When Anson heard that 500 police officers were raiding Apple Daily's newsroom on June 17, he rushed to the office and witnessed what he said was the most unforgettable scene in his 20 years as a journalist.
"It was a group of armed men who do not deserve any respect as they are willing to follow the orders of the government and raid the newsroom," he told DW. "As a journalist, I was witnessing it, but I couldn't do anything about it."
Police took away computers and hard drives and arrested five executives. Among those arrested were Kim Hung, CEO of Apple Daily's parent company Next Digital, and the paper's editor in chief, Ryan Law.
They were charged with "colluding with foreign forces to endanger national security."
Another Apple Daily journalist named Lu told DW that the arrests and paper's demise have left him feeling "helpless."
"The loss of freedom of the press is just another sign of losing freedom of speech," he said.
"I tell myself that Apple Daily's mission is to expose social injustice and the decadence of the rich and powerful," he said. "This forced closure is the best evidence to reveal the current situation in Hong Kong," he added.
Will more Hong Kong media be targeted?
Lu said that while he is anxious about losing his job, what worries him more is the possible domino effect of the government's crackdown on the media community in the city.
"I don't know what will happen to Hong Kong after losing Apple Daily," he said, adding that authorities might target the free English-language daily The Standard or other media outlets next.
"I don't know what will happen to Hong Kong if we don't have credible media anymore," he said.
On June 22, Hong Kong Chief Executive Carrie Lam denied that the operation last week was a crackdown on press freedom, stressing that the authorities were not targeting "normal journalism," but rather entities suspected of "endangering national security."
Anson from Apple Daily said that many media organizations in Hong Kong have had to impose self-censorship since the security law came into effect last July.
"Media can't mention sanctions against China, Hong Kong independence, or even print the banned pro-democracy slogans: 'Liberate Hong Kong, Revolution of the Times' in interviews," he said.
No such thing as 'partial' press freedom
Anson said press freedom is dead in Hong Kong, because being "partially free" is not enough. The veteran journalist added that he is worried that having worked at Apple Daily may result in him being targeted.
"If one day I am arrested, I will be very sad, very sorry, very uncomfortable, because I can't grow up with my son," he said.
"I just want to be a competent journalist, why do I have to suffer like this? We are doing the right thing, what are we afraid of? Why should we live in fear?"
Anson said he believes that the spirit of Apple Daily was to tell the truth, embrace justice and support democracy and freedom, and that its core values will not disappear even if the newspaper ceases to operate.
He stressed that when there is a lack of press freedom, there is even more demand for news and the role of journalists becomes more important.
"It is inevitable to feel powerless in Hong Kong now, and when you know it is inevitable, you will not be trapped by the feeling of powerlessness," he said. "There are still many things you can do."
Tokyo exits lockdown but pandemic Olympics barely register
---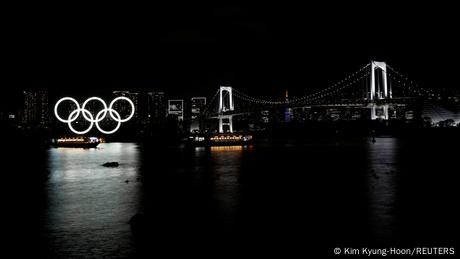 About a month before the start of the long-delayed Olympic Games, Tokyo barely vibes a celebratory atmosphere. For the past few weeks, the metropolis has been under a strict state of emergency, imposed on most of Japan in response to a wave of coronavirus infections propelled by highly contagious variants.
Even though the authorities lifted some of the restrictions last weekend, and the Japanese capital has almost gone back to normal, one of the world's biggest sporting events will most likely take place fairly quietly, divorced from Tokyo residents as well as foreign visitors.
No alcohol, no hugs, no cheers — these are examples of the many strict rules that Olympic organizers have introduced for spectators at the Summer Games. Seiko Hashimoto, president of the Tokyo 2020 Games, warned on Wednesday that festivities "will have to be suppressed" to keep the event safe.
Organizers and city authorities are aiming to enclose the event in a "safe bubble" of vaccinated athletes and delegations. The Games' attendances will be capped at 50% of a venue's capacity.
This looks nothing like the last time Japan hosted the Olympic Games, almost 60 years ago. Back in 1964, the Olympic Games marked the beginning of an era of growth and prosperity in Japan. Besides hosting the Summer Games, Tokyo had unveiled its legendary bullet train — a sign of pride for the city that had arisen from the ashes of a war that had ended fewer than two decades earlier.
But in April 2020, when the Games were supposed to take place, that train ran around Tokyo with most seats empty, according to the Reuters news agency. Residents were instructed to stay at home as the pandemic swept through Japan and the world. The Olympics had been postponed a month earlier.
Now, the event is on again, set to start in July despite widespread calls for its cancellation. Over the past weeks, polls have shown the majority of Japanese are opposed to holding the Games in July. Doctors and health care workers have emerged as the strongest voice of opposition to the Games, expressing concerns that a surge in infections could overwhelm the country's already weary health care system. The risk of infection rates going up again is high, as the country's vaccination rate remains low. Even though Japan has tried to speed up its vaccine rollout, just about 7%of the country's citizens have received their second dose, compared with around a quarter of the population or more in many other rich countries.
"I can't seem to enjoy myself as much as I did last time," an elderly woman who saw the first Games told Reuters. "It's disheartening, like somebody else's problem. I don't feel like it's being held in my country."
Protesting with flags, guns and tires
---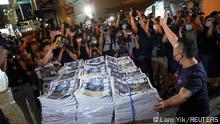 Mozambique after three cyclones: Buses transformed into classrooms
---
Cyclones damaged about 1,000 classrooms in Beira in two years. Many students had to study out in the open. The city council suggested an alternative. Repurposed buses as classroom. Transformation of the "machimbombos" takes place in Maputo Province. Beira implements the project with support from the Dutch Embassy. Chota Primary School has five repurposed buses. There is still much to be done to overcome the lack of classrooms. The alternative can help education and it is also eco-friendly.